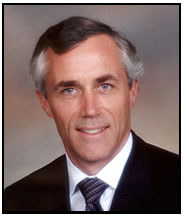 Kirk D. Hamilton, P. Eng. MBA

Kirk Hamilton is an executive experienced in leading organizations through change initiatives to achieve greater profitability. The scope of his assignments ranges from the repositioning and turnaround of a global provider of smart card equipment and software solutions, NBS Technologies Inc, to major telecom start-up operations with leading edge technology for BCE and others, to turnarounds of manufacturing operations within GE Canada. With broad functional expertise he is able to assess the needs of an organization and has the proven ability to lead a team to achieve its short-term and long-term profitability objectives.

Since 2000, Kirk has taken hands-on leadership positions with firms in diverse industries to generate improved profitability. Most recently he drew on his broad functional experience and leadership abilities to move NBS Technologies operations to profitability after years of losses. He implemented a new strategy leveraging the business brand and service strengths, reorganized management structure to assure accountability for results and outsourced US manufacturing operations to a Malaysian partner. Prior to NBS, Kirk was called upon to lead the antenna division of public company that produced wireless infrastructure equipment. The division was taken from a loss position to profitability and then divested. The business was sold to a strategic investor of wireless telecom infrastructure equipment from Bangalore, India.

From 1990 through 1999, Mr. Hamilton assumed executive leadership roles building new telecom businesses that brought leading edge wireless technology to market and challenged incumbent operators. As the Marketing or Corporate Development executive he led the marketing teams and business strategy and was instrumental to the financing of three major wireless telecom businesses, TeleZone Corporation and WIC Connexus Inc. in Canada and Vesper S.A of Brazil.

Mr. Hamilton.s management and leadership skills were honed through his 14 years at General Electric. GE promoted him through progressively more senior leadership assignments in various manufacturing businesses. He was frequently engaged in projects to be the catalyst leader of change in operations roles, most notably as head of Quality Assurance for the Lighting Business in Canada. There he led the implementation of new quality programs that became known as the Six Sigma Quality Program.

Mr. Hamilton received his Masters of Business Administration from the University of Toronto and his B.Eng. (Electrical) from McGill University.